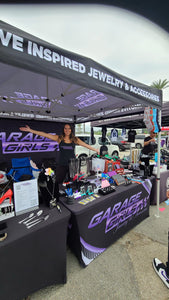 Garage Girls Jewelry Shines at Subiefest 2023!
We recently had an unforgettable experience at our first-ever event at Subiefest 2023! We couldn't be more thrilled with the outcome and the overwhelming support from all the amazing people who came to visit our booth. The event turned out to be the perfect opener for our vendor event schedule, and we're excited to share our incredible journey with you.
Subiefest 2023 was an absolute blast! The atmosphere was electric, with Subaru enthusiasts coming together to celebrate their love for these fantastic cars. We were in awe of the variety of Subarus present, each showcasing unique modifications and styles.
Meeting new friends was undoubtedly one of the highlights of the day. Engaging with fellow car enthusiasts, exchanging stories, and sharing the passion for cars created an instant connection. It warmed our hearts to see how our jewelry resonated with people who share the same enthusiasm for vehicles.
We were also thrilled to reunite with some familiar faces. Seeing old friends and loyal customers dropping by to support us at Subiefest was heartwarming. Their encouragement and enthusiasm for our jewelry creations truly motivated us to continue pushing our boundaries and exploring new designs.
None of this would have been possible without the dedicated Garage Girls team. Their hard work, creativity, and passion for crafting unique pieces of jewelry played a significant role in our success at Subiefest 2023. From the early planning stages to the event's execution, their teamwork made the experience both fun and rewarding.
We want to extend a heartfelt thank you to everyone who supported us at Subiefest 2023. Your encouragement and enthusiasm have ignited a fire within us to continue growing our small business and bringing you more exciting and beautiful jewelry pieces inspired by the automotive world.
As we reflect on this remarkable experience, we are filled with gratitude for the love and support shown by the Subiefest community. We're excited to embark on this journey, fueled by the joy of crafting unique jewelry that celebrates our shared passion for these incredible cars. Stay tuned for more events and updates from Garage Girls Jewelry – we can't wait to see you again soon!
---